Fuel tanks for FRB (Fast Rescue Boats)
KAMI's engineering department has been responsible for the design and production basis for these fuel tanks. After preparing a complete production basis, the tanks have been produced at KAMI in aluminum. The tanks are manufactured in our stainless steel and aluminum department.
After delivery, the tanks are cast into a fast rescue boat which is a smaller, fast-moving man-overboard boat that is used when there is an accident at sea. The boat is usually launched from a mother vessel and can travel quickly to an accident.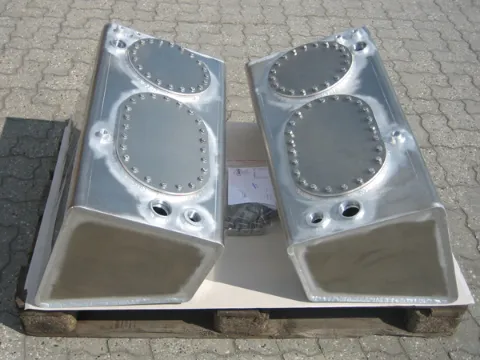 Construction based on a specific customer brief
Preparation of production documentation after unfolding
Delivery of a complete set of drawings with associated parts list to production.
KAMI's stainless steel and aluminum manufacturing department has delivered the tanks.
Processes include cutting, bending, CNC machining, welding and testing.
The tanks are welded in seawater-resistant aluminum EN AW-5754.
The tanks are tested for any leaks before delivery (leakproof).
The project was delivered to a Danish customer.
A nice project with unfolding, working drawings and welding in seawater-resistant aluminum EN AW-5754.
Gallery
See some of our images
We work within Industry, Offshore & Marine, and Structural Steel
We deliver everything from small welded structures to large structures!
We also deliver small CNC machined parts – and nothing is too small!
Engineering and project delivery
We offer design, FEM calculation and CE marking
Want to learn more about this project?
Feel free to contact us for more information!
KAMI carries out various projects in stainless steel and aluminum, as well as in black steel and high-strength steel. We deliver projects to the offshore & marine industry as well as to general industry, including the food industry.
For more information on some of the projects we have delivered to industry, you can find relevant information here. If you are interested in seeing other projects we have delivered to the offshore & marine industry, you can find more information here here.
In addition to project execution, we also provide sub-processes for the metal industry. For example, we offer single pass processes such as cutting, bending/rolling, CNC machining and welding. If you want to know more about the processes we offer, you can find much more information about these here. In addition to production, we provide separate engineering services, such as design proposals, production documentation, FEM calculations and CE marking. You can read much more about our engineering services here.
Feel free to contact us – whatever you need delivered, we'll do our best to help you out!
Contact us to find out what we can do for you